Overview
If you are following technology news, you have likely already read about how AI programs trained with reinforcement learning beat human players in board games like Go and chess, as well as video games.

As an engineer, scientist, or researcher, you may want to take advantage of this new and growing technology, but where do you start? The best place to begin is to understand what the concept is, how to implement it, and whether it's the right approach for a given problem.

Reinforcement learning allows you to solve control problems using deep learning but without using labeled data. Instead, learning occurs through multiple simulations of the system of interest.
This simulation data is used to train a policy represented by a deep neural network that would then replace a traditional controller or decision-making system.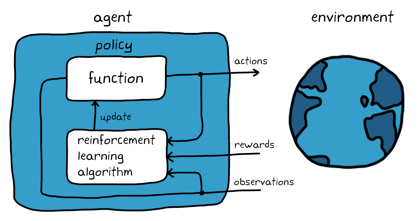 In this session, you will learn:
Learn about reinforcement learning and how MATLAB and Simulink can support the complete workflow for designing and deploying a reinforcement learning based controller.
How to apply reinforcement learning using MATLAB® and Simulink® products.
How to set up environment models, define the policy structure, and scale training through parallel computing to improve performance.