Overview
In the 5G era, developing smart connectivity devices in homes, cities and factories has become an important trend.
In this webinar, you will learn about new capabilities in MATLAB to design, implement and test new wireless connectivity devices. We will discuss the evolution of Wi-Fi standard, coexistence of standards-based signals, smart home, IoT standards, positioning and direction finding, wireless sensing and application of deep learning in wireless communications


You learn how to generate standard-based signals for testing in MATLAB. Then, you can obtain expected performance metrics with link-level simulations that include channel modeling and RF front-end and receiver operations. You get in-depth insight into algorithms since these functions are offered as open MATLAB code. Finally, you can test and compare expected metrics with real-time results obtained through over-the-air testing with Software-Defined Radios (SDRs) and RF instruments.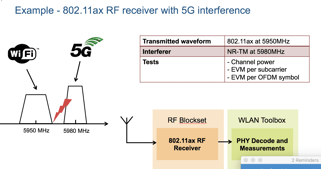 Key Highlights
The evolution of Wi-Fi - 11ax, 11ay and beyond

Coexistence and interference – BLE and Wi-Fi/5G

Smart home and IoT- Zigbee, 802.11ah (Wi-Fi HaLow), NB-IoT and LTE-M

Positioning (802.11az), direction finding (BLE 5.1) and wireless (Wi-Fi) sensing

Generate standards-compliant Wi-Fi, Bluetooth and Zigbee waveforms

Simulate and interact with these wireless connectivity standards

Verify your designs with over-the-air testing with a range of RF instruments